For as long as I can remember, I've been a book-worm. I have so many childhood memories of secretly reading into the early hours of the morning, with the bedside lamp on and turning page after page, I was hooked.
But life does what life often does best, and gets in the way, or in other words, I haven't always made reading a priority, regardless of how much I love it! Over the past year I've tried to make a conscious effort to read more – less screen time and more book time. So here are my top 5 fiction books that I've read recently: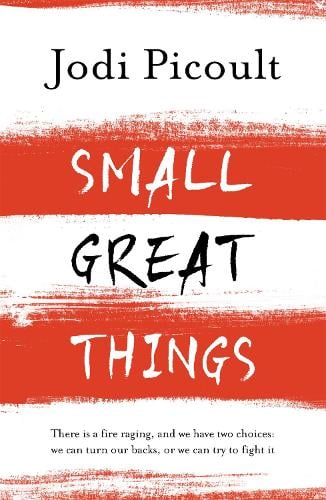 1. Small Great Things – Jodi Picoult: I'm going to be honest here, regardless of the massive hype surrounding this book, I just couldn't get into it.. Initially. I think I may have spoken about this book in a previous blog post, actually, but I'm going to go ahead and talk about it some more. I picked this book up several times, then put it down again.. Several times, before actually getting into it. The book is based around racial prejudice, it's a book that will make you think, and leave you with a different view and perspective on racism and prejudice, both in the past and within the current day society. Picoult is also the author of the best-selling novel, and film, My Sister's Keeper, she's an amazing writer and I found her book incredibly well researched and informative. It was laced with emotion in all the right places and had a fantastic message, the perspective of the novel leaves you with a better understanding of the blatant unfairness surrounding racial prejudice and issues surrounding racism in the modern world. This is a book that had an impact on me, it's an important read, and despite the struggle to get into it initially, if there was one book I would urge you to read it would be this one!



2. Eleanor Oliphant is Completely Fine – Gail Honeyman: I loved this book from start to finish. It's The No.1 Sunday Times Best Seller, the winner of the Costa First Novel Award, and is soon to be produced into a film by Reese Witherspoon – and all for good reason! It's a fabulously written story, touching on subjects such as loneliness and our judgment of others. Eleanor Oliphant is the main character of the story, she's undeniably a little odd and leads a simple yet slightly strange life, but she's a special and incredibly likeable character. We get to know her and why she acts and lives the way she does, as the novel continues we learn about her past experiences and I found myself seriously rooting for Eleanor. The book is full of a variety of emotions and as well as touching on some deeper topics, there are also a fair share of light-hearted and humorous moments. I'd 100% recommend this book, it's balanced with deeper messages, encourages you to be open-minded, and keeps you hooked with it's humour and wit.
Read a Waterstones interview with Gail Honeyman about the book here.

3. The One Memory of Flora Banks – Emily Barr: Another top favourite of mine, that had me hooked right until the end! If I recall correctly, I think I read this book in two days, Ollie had no chance.. I was completely lost in this book. It's an easy read, yet has messages and deeper meaning to take away from the novel. Flora is the main character of the book, she lost her memory when she was 10 after a car accident, and now suffers from anterograde amnesia. She struggles to remember anything, to the point where she has notes to refer back to in attempt to jog her memory, and the words 'Flora be brave' written on her hand for encouragement. Her loss of memory sees her parents incredibly protective of her, for her amnesia makes her life difficult and causes more limitations than your average 17-year-old. After kissing a boy after a party she finally has one clear memory that she can hang onto. The novel follows her somewhat reckless yet remarkably brave journey to find the boy she kissed and gifted her with a memory. The story follows the teenage love-story and the inspiring nature of Flora who follows her heart despite her challenges.

4. The Vintage Teacup Club – Vanessa Greene: I bought this book whilst working in Wales over the Summer. There's a small book-shop – in the market hall next to the café where we worked – with the loveliest owner, so we popped in after one shift and bought a couple of books… In fact, the owner gifted them to us (small acts of kindness go a long way!). We went straight to the beach, and I read, and read. The book is nothing extravagant in terms of deep meanings, but it's a lovely read, well-written and touches on the experiences of three women who meet at a car boot sale and form a refreshing and beautiful friendship. Each chapter within the book is written from the perspective of three women – Jenny, Alison and Maggie – we then follow the women's lives, their personal struggles and their friendship. The friendship is formed over a vintage teacup set, which all three women find at the same time at a car boot sale and fall in love with. There friendship blossoms from this point onwards and we follow the journey of the friends throughout the book. It's a light-hearted, heart-warming yet realistic tale of the value of friendship and the different struggles and personalities of the three women.

5. Everything Everything – Nicola Yoon: A No.1 New York Times Bestseller, also created into a 'Romantic/Drama' film in 2017. The book is actually considered a young-adults book, so at twenty-one, perhaps I'm out of the targeted audience range, but regardless I still thoroughly enjoyed the book, and the film for that matter! The book is based upon a 17-year-old girl, Madeline Whittier, who lives with a rare disease causing her to live a life confined within the walls of her own home, with her only visitors being her Mum, carer and carer's Daughter. The novel follows Maddy's unique lifestyle and her experience as a teenager living without the regular experiences of High School, friendships and relationships.. This is until she begins chatting to her new next door neighbour, Olly, online. The story advances, uncovering hidden secrets and shows the true beauty of the outside world – through the perspective of someone seeing it all with fresh eyes. The topic of the story addresses a unique situation but keeps the majority of the story rather light-hearted and keeps a large proportion of the novel based around the relationship between Olly and Maddy. The sheer power of Maddy's ambition to see the World and be with Olly is courageous and heart-warming. The book, as always, elaborates more on the storyline and emotions of the characters than the film, however I enjoyed watching the film too. I did think that some topics within the book should have been talked about and elaborated on more, such as the mental health of the Mother, but this could have been due to the fact it was a young-adults book, rather than an adults novel? It's an easy read, with an interesting story-line, and shows the sheer power of love – both between the two teenagers, and a Mother and Daughter.
What were your favourite novels that you read in 2018?
Have a lovely day,
Beth xx
*This post contains affiliate links